Duramax 10.5 x 8 StoreMax Plus
SKU:

30225

Shipping:

FREE Shipping! (Estimated Arrival: 10 working days)

Availability:

Western USA Only
Shipping:
FREE Shipping! (Estimated Arrival: 10 working days)
Availability:
Western USA Only
Frequently bought together:
Description
The 10.5' wide StoreMax Plus Series is our signature shed line that gives you the ultimate solution for all your storage needs. If you have the room for one of these large storage sheds, then the StoreMax Plus is the ideal storage shed for you. The StoreMax 10.5 ft. x 8 ft. Vinyl shed adds elegance to any outdoor setting. This tall walk-in shed features tall and wide double doors. The wall columns are reinforced with a solid metal structure that gives the shed strength while the molded floor provides for a clean and sturdy base. With large cubic feet, there is no better-valued vinyl storage shed in the marketplace today. If you have the room this is the ideal storage for you.
Features
All Weather Durable Vinyl
Molded Floor Included
Won't Rust, Rot, Dent or Mildew
Never Needs Painting
Full Skylight
Tall Walk in Shed (73" Tall)
Wide Double Doors (61" wide x 71" tall)
Easy Assembly (needs two people)
Includes Door Handles with Padlock Eyes
Strong Metal Structure Tested for 20 lb/sqft Snow Load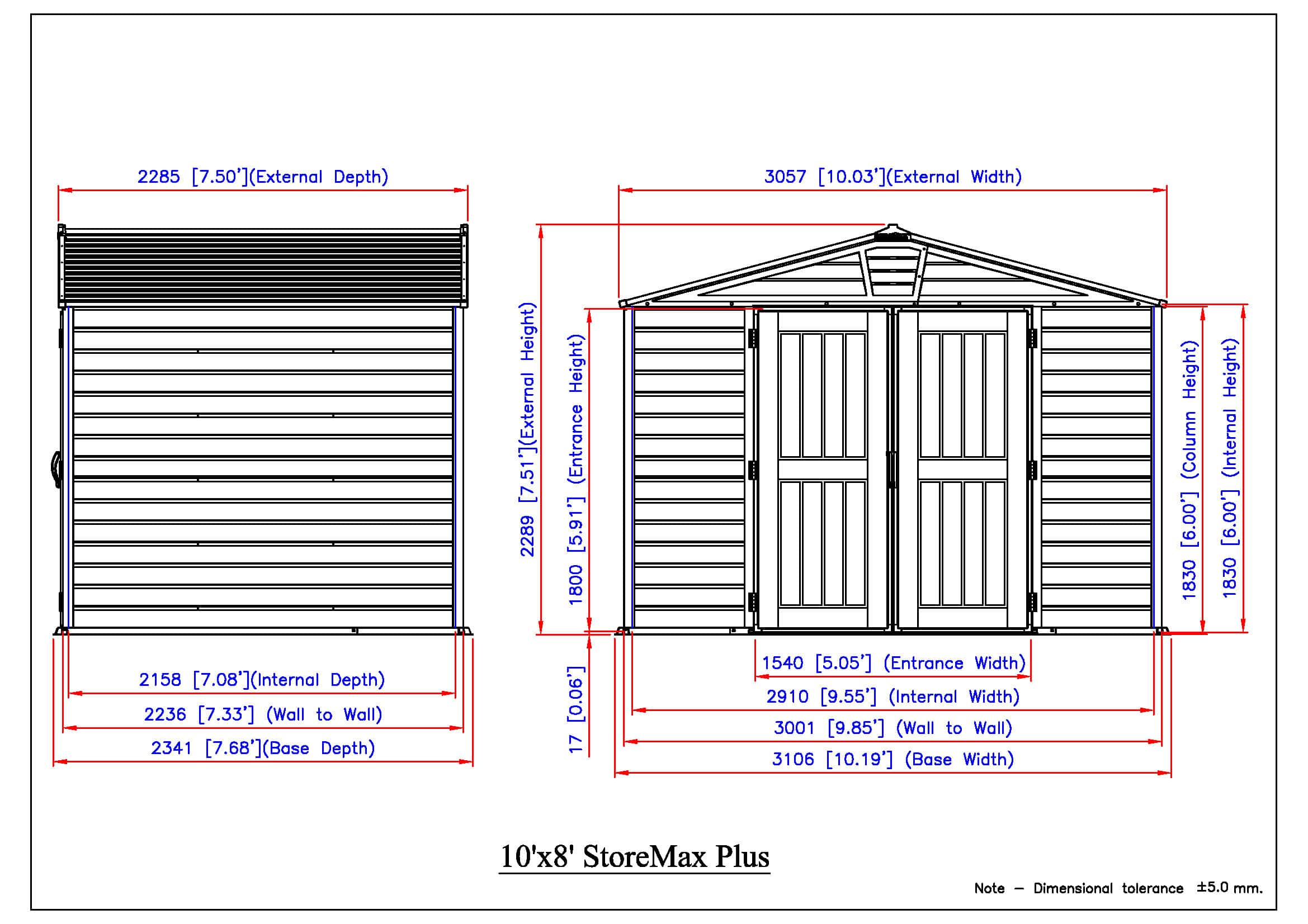 Specifications

StoreMax Plus 10.5'x8'
SPECIFICATIONS

Color
Exterior Dimensions
inches
Interior Dimensions
inches
Door Dimensions
inches
Approx.
Box Weight
lbs.
Item /
Model No.
Product Description
Wall
Roof/Doors
Length/
Depth
Width
Height
Length/
Depth
Width
Height
Cu. Ft.
of Space
Width
Height
30225
10.5'x8' StoreMax
Light Grey
Dark Grey
97.24
127.87
91.81
92.24
123.35
73.03
480.84
60.63
71.46
250 Lbs
View All
Close